Three fires that gutted multiple homes in Owen Sound is being called a crime by police.
Although a cause hasn't been determined, investigators are on scene.
The fires were first reported around 4:00 o'clock. When firefighters arrived, they found three blazes in separate residential buildings at the corner of 15th Street East and 7th Avenue West on the St. Mary's hill. They immediately called for assistance from Inter-township and Chatsworth Fire Services.
Ten people were taken to hospital for treatment of non-life-threatening injuries. Fifteen other homes in the area were evacuated and residents were transported to the Lumley Bayshore Community Centre.  Red Cross and Victims Services are providing assistance to those people.
One home was destroyed; another was gutted; and damage is extensive to a row of townhouses.
Gord Taylor lived in one of the home destroyed by the flames.
"I was upstairs sleeping and I heard some ruckus outside and I heard somebody pounding on my door and I come down the stairs and they said get out because there's a fire and I had to go back upstairs to get dressed and I left," said Taylor as he stood surveying the damage.
Owen Sound Police Chief Bill Sornberger is calling it a 'criminal investigation'. An investigator from the Fire Marshall's office is also at the scene today.
From 8:55 a.m.:
The City of Owen Sound confirms fires at three locations in Owen Sound this morning.
Owen Sound Fire with the assistance of the Inter-township Fire Services and Chatsworth Fire Services are on the scene with EMS. Fire suppression activities continue.
Some residents have been evacuated to the Bayshore Community Centre with the help of Red Cross, Victims Service and First Student Transit. Anyone needing help is asked to call 211 or go to the Bayshore.
Representatives from the Fire Marshall's Office and Police Services are on the scene investigating. Road closures are still in affect.
Due to the structure fires and resulting clean-up efforts there are bus detours. The East Bayshore Bus will be detouring the St. Mary's Hill area until further notice. The East Bayshore Bus will be traveling east on 10th Street East and north on 9th Avenue East to 27th Street East where it will resume its normal route. The East Bayshore Route had been using St. Mary's Hill due to the construction on 3rd Avenue East. The East Bayshore route will revert back to the St. Mary's Hill route as soon as possible.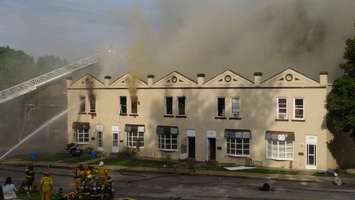 A row of townhouses on fire in August of 2015. (Photo by Kirk Scott)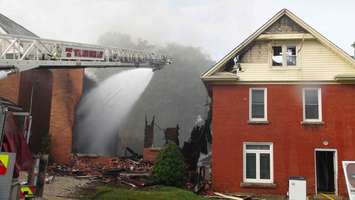 Nothing left of a home in Owen Sound after a fire tore through it. Photo by Kirk Scott.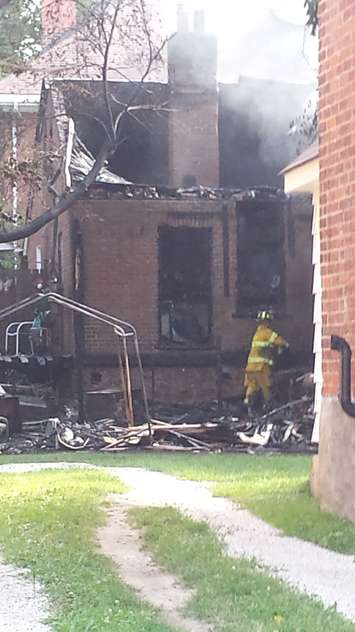 The aftermath of a fire in Owen Sound. Photo by Logan Strauss.


From 6:56 a.m.:
The bottom of St. Mary's hill in Owen Sound is blocked off this morning because of several fires.
Initial reports indicate two homes on 4th Avenue East and one on 15th Street East are on fire. Several other nearby homes have been evacuated with several people taken to hospital due to smoke inhalation.
The Intertownship and Chatsworth Fire Departments are also on the scene.
Sections of 3rd and 4th Avenue East are blocked to allow firefighters quicker access to the scene.
-- with files from John Chippa and Steve Sabourin --