"It started off as some people describe, and did describe, as a pipe dream," Steve Cordes, the CEO of Youth Opportunities Unlimited said of Joan's Place.
On Friday, that pipe dream came much closer to reality. It was announced that Joan's Place will receive more than $8 million in provincial and federal funding.
YOU's affordable housing project began nine years ago and is targeted for young and expectant mothers at risk of experiencing homelessness.
It's named in honour of Joan Smith, Ontario's first female solicitor general and a fierce advocate for youth mental health, the LGBTQ2S+ community, racial equality, and women.
MP Peter Fragiskatos remembered her fondly when he spoke on behalf of federal Minister of Housing, Infrastructure and Communities of Canada, Sean Fraser.
"[She] was a tireless advocate for London, someone who didn't stop fighting for this community and the province as a whole," he said. "She fought for those whose voice was forgotten."
Fragiskatos announced $4 million in funding from the federal government through the National Housing Co-Investment Fund.
Elgin-Middlesex-London MPP and new Associate Minister of Housing Rob Flack was also present for Friday's announcement, to pledge $3.9 million from the provincial government.
"We have a housing crisis. Full stop," he said. "We need to get 1.5 million homes built. All kinds of homes, whether it's supportive, whether it's attainable, affordable market-based housing, we need homes."
Flack was enthusiastic about Joan's Place and said he hopes to see more innovative solutions for the housing crisis.
"The Premier's tasked me with really focusing on things like modular homes," he said.
"The dream of home ownership is for everyone, wherever you are in life," Flack added. "Everyone in this province, in this country, deserves a roof over their head and I'm going to work tirelessly to make sure that that happens."
Mayor Josh Morgan spoke on behalf of the municipal government. He thanked YOU for its vision in taking on a project that will provide stability and safety for people who might not be able to attain it on their own.
"[Joan's Place] doesn't just happen magically on its own," he said. "It happens because of thoughtful people taking risks, working towards something, fighting through barriers, and challenging all levels of government to step up and assist in the ways that they can."
The City of London has invested $85,745; Joan's Place also received $60,000 in SEED funding.
Cordes hopes the cooperation now being seen will be a springboard, allowing for much less red tape on similar projects in the future.
Thirty-five affordable units, eight of which will be fully accessible, will be available after construction.
Joan's Place is scheduled to open in the fall of 2024.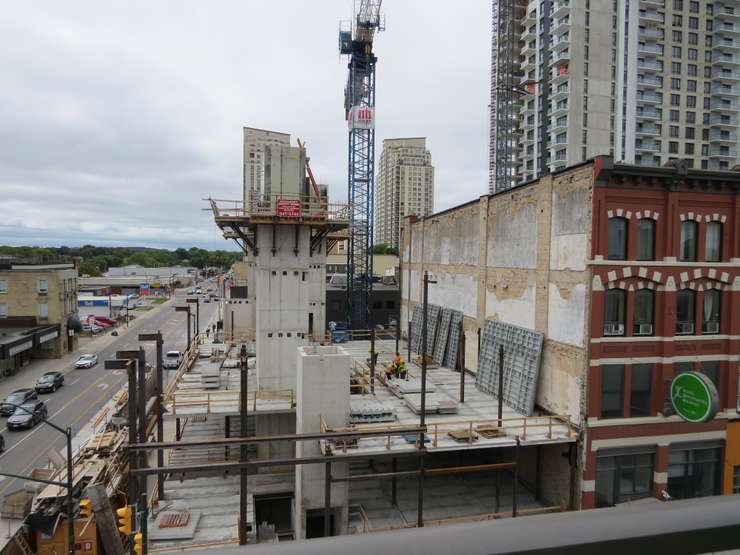 Construction on Joan's Place (Photo by Tamara Thornton, Blackburn Media)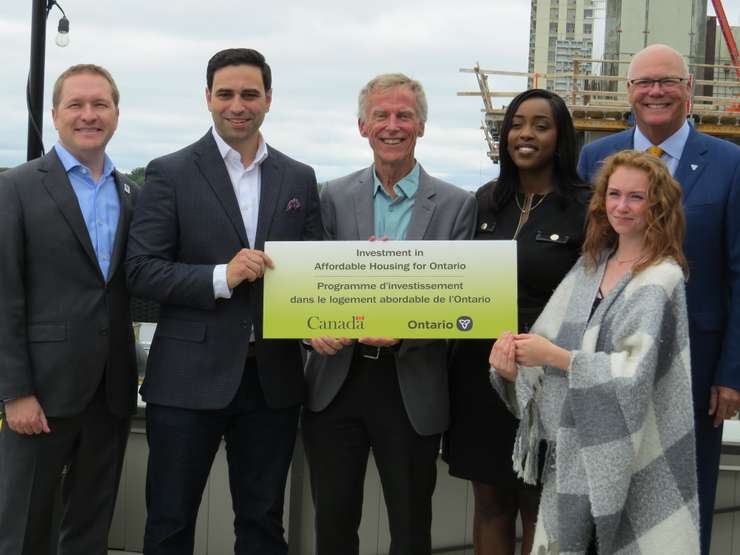 Housing announcement for Youth Opportunities Unlimited L to R: London Mayor Josh Morgan, London North Centre MP Peter Fragiskatos, CEO Youth Opportunities Unlimited Steve Cordes, London West MP Arielle Kayabaga, Elgin-Middlesex-London MPP Rob Flack, YOU Peer Mentor Chloe (Photo by Tamara Thornton, Blackburn Media)
- Blackburn Media previously reported a total investment of $10.6M, which has been corrected.